Posts Tagged 'group'
I am evaluating the lesson plans of future facilitators. Normally I wait till the end of the semester to reflect on the common misconceptions that arise. However, critical patterns have already emerged.
One mistake is not articulating how they form student groups using pedagogical principles. Novice instructors often assume that students will form groups, know how to form different types of groups, and/or know what to do in those groups. This is not true even with learners who have worked in loose cooperative groups before. This is because context and content change the strategy for the type of cooperative work.
What might work with heterogeneous grouping in one context might not work with another class learning the same content. The second class might need different-sized groups, more homogeneous groups, or different group strategies.
I model these strategies in my workshops. Here is one example.
As my learners come from different schools in a university, I make them find peers of similar backgrounds so that they are in more homogenous groups. I get them to play an academic dating game by asking each person to write their school and teaching topic on a piece of paper. Then I ask them to use that paper sign to find birds of similar feather and to flock together. The rest of the session then looks something like this.
My design rationale is simple: My learners uncover generic cooperative and learner-centric strategies during my workshops. However, they need to apply them in specific teaching contexts. What works in one context might not work in another. So the more similar their backgrounds and shared histories, the less cognitive burden my learners have to shoulder when they unpack and repack the strategies.
There is value in using more diverse groups, of course. The cross-fertilisation of ideas when an language historian shares strategies with a theoretical physicist can be wonderful, but this is more likely to work for a group of more advanced participants.
Depending on the group of learners I have that day, I facilitate a rise above of the experience so that we analyse the design of grouping for cooperative learning. Perhaps I should not assume some groups get it and others do not. I should set aside time and space for all groups to rise to this lofty ideal.
While learners are diverse, kids who go to school can be divided into at least three groups.
The first two groups are obvious: Those that school well and those that fall through the cracks.
Societies favour the first group. Most kids, irrespective of who they are or what they might do, learn to be schooled. If schools are like factories, then these are the kids that pass quality control.
The second group is those that cannot make it through the factory door or are thrown out the back door. These could be kids that have special needs, end up in prison, or are marginalized in school for whatever reason. Some people label these kids non-traditional learners.
There is a third and less obvious group of learners. These are kids that find their own way without conventional schooling or despite it. These are the real non-traditional learners.
These kids are self-directed, aware of who they are, and more driven to self actualize. They are typically born into family or support structures that enable them to operate this way.
For this group of kids, school is often boring and an inconvenience to tolerate. They know where they are going or must go; they are sidetracked to school because of the dictates of society.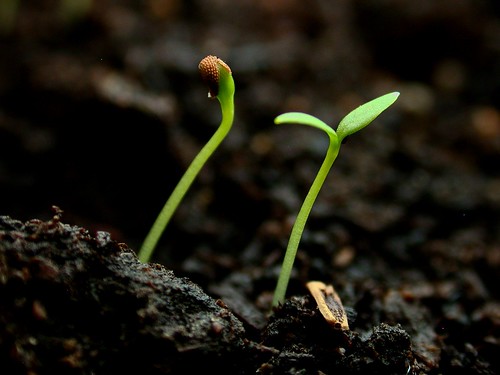 by
–Tico–

Why are this type of non-traditional learners emerging now? Like germinating seeds, they are doing so because certain conditions are right.
Technology enables learners of all ages to learn beyond text, reach out to experts, connect with others, and create on the world stage. These are things that schools do not emphasize enough and some even take punitive steps to prevent.
Another condition is progressive research and pedagogical innovation that reveal how we learn and explore more effective ways to teach. We have started to question established but ineffective ways of doing things and think of ways to change them.
Still another is how quickly new information spreads to educators via open and social online platforms. Take the explosion of educator tweet chats for example.
All these will help the learner of today (and tomorrow) to help themselves, define their own professions, and shape their own careers. They need not be told by the results of high-stakes assessment of their worth. They need not be told by content experts that they are unable or stupid.
Never before have learners been so potentially empowered. That might be what scares parents and teachers alike. But I hope that more adults overcome this fear and guide their kids on their journey. For like a germinating seed, there is no growing backward.
After a few thank you cards, photos and conversations, this semester's ICT course came to a close.
Did my trainees get the point of participating in this course? I am sure most of them did. I hope that my course has put them of the course of lifelong learning and reflective practice as professional educators instead of just ordinary teachers.
Many thanks to Lisa Toh for the photo!