Posts Tagged 'dabao'
The Centre for e-Learning (CeL) tried two slightly different professional development (PD) strategies so far this year.

The first was our Beat the Haze series in early April. This was our listing in the Learning Edge and photo records in Facebook albums [1] [2] [3] [4] [5].
The strategy was simple but effective. Our tagline was: Our online platforms are ready for the haze. Are you?
There will always be a segment of people who worry about the "business continuity" in the event of an environmental disaster or inconvenience. This could be a flood in Thailand, a typhoon in the Philippines, or the haze shrouding Singapore.
Unfortunate as the circumstances may be, these are perfect opportunities to turn the mindset of emergency learning into e-learning.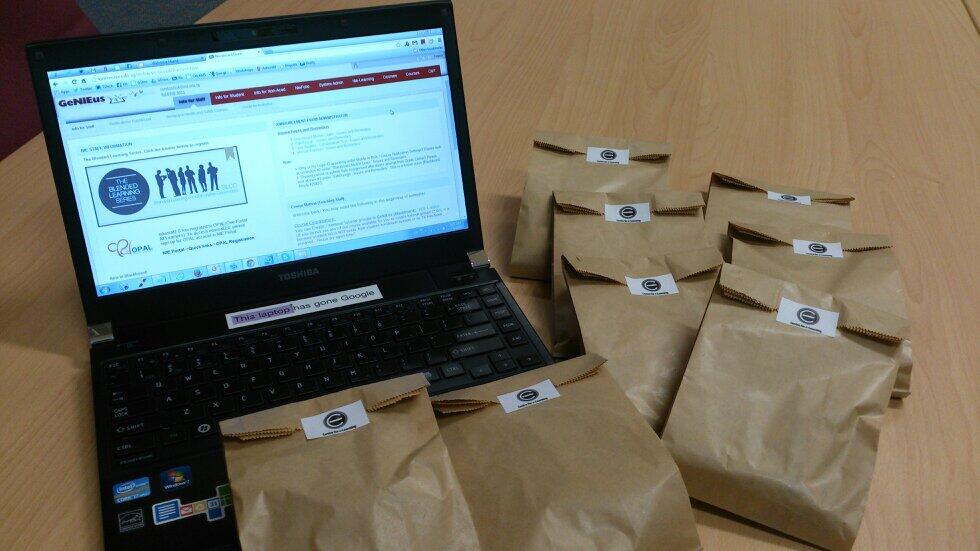 Our second strategy was to modify the "brown bag" discussions that take place in some universities. We wanted something bite-sized, informal, and meaningful to participants. This strategy is currently in play in the month of May.
Instead of requiring participants to come to a centralized location, we went to them. Instead of asking them to bring something to eat, we brought them items to dabao or to take away (see Facebook photo album).
This was our first foray with a more informal, but I think more effective, strategy. This was not designed to be a series of briefings disguised in brown paper bags. Sharing was short, bidirectional, and open to change. Academic staff were free to air their grievances or to share their own tips, and CeL staff had to be ready for anything.
CeL is still learning despite the successes we have experienced with the strategies. Like a reflective teacher, we know that what works in one semester and with one group may not work in another context.