Posts Tagged 'conference'
Earlier this week I was privileged to be invited to speak at CSC 2013 as a panel member and to present with my colleagues and staff our free CeL apps for mobile learning.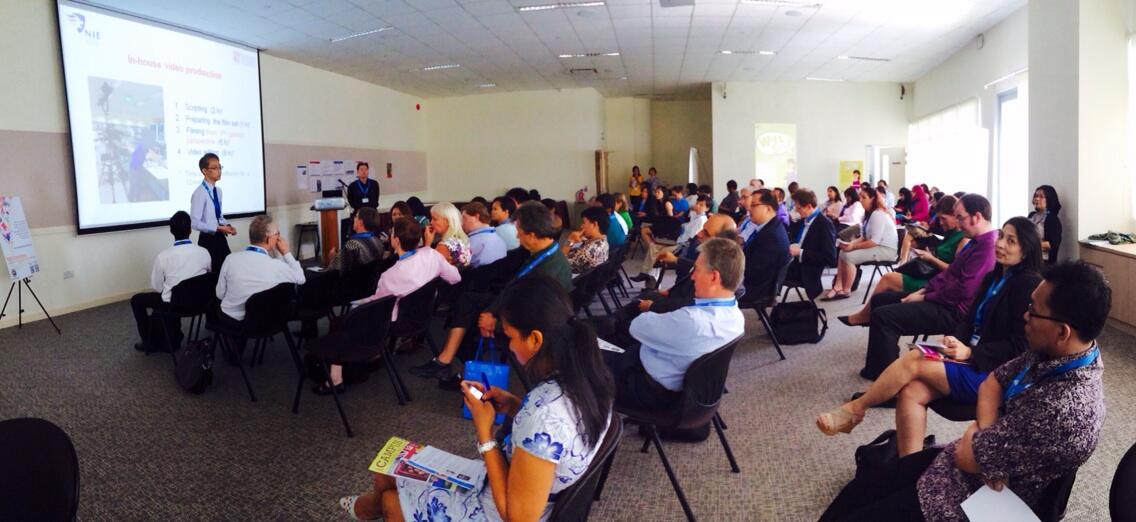 I think I was invited because I tweet and @Cambridge_CAS follows me. I wonder how many other speakers got invited this way.
This reminds me of Julian Stodd's thoughts on how authority or reputation nowadays is based less on "positionality" or titles. I am getting used to invitations that start with how someone Googled a topic and found a digital artefact I shared, read this blog, or followed my tweets.
That said, I doubt the organizers would have invited someone who had a track record but did not have some sort of title. I guess they were entitled to be somewhat conservative in their first regional conference in Singapore.
And conservative they were. How do I know?
The things I heard and saw were about the same as at other education-oriented conferences. Things like technology is disruptive, we must change, technology can enhance learning, teachers are indispensable, etc. All good messages, reminders, or takeaways because not everyone is on the same page.
But if you look at the Twitter backchannel (#csconf2013), you might get the impression that little was happening. The quality of a modern conference is as much a function of how much the delegates participate in all channels of communication as how well it was organized, if not more so.
A discourse analyst might notice there were several official postings and other socially interactive ones. If you coded for the latter, you might wonder if actual conversations took place.
I use a backchannel as a barometer of change and change acceptance. I have been to events where the backchannel topic trends locally or internationally and it is difficult to keep track of what goes on. That tells me that participants have embraced a change mindset, are thinking actively, and wanting to share and act on what they know.
Prior to my panel discussion, I asked the organizers if I could project resources on screen should the need arise. This was not driven by ego (I do not like the sage on stage mentality). This was driven by a basic teaching strategy (send the same message over different channels).
I had to go though three people to be told no. The corporate background had to be in place for the video recording and photo ops. I respect that. They are entitled to do that. But I wonder if they realize how that also speaks volumes about the prevailing mindset.
I had been asked to think of a main question and to provide evidence. Much of the evidence was visual. All of the resources could have been hyperlinked. People would not have to photograph slides. I would have liked to gently push the boundaries of presenting or discussing in an attempt to model change.
In all other panels I have been involved in, I have had to meet fellow panelists beforehand either in person or online. I have no problem with being spontaneous, but I also see the value in establishing expectations or agreeing to certain themes so that the audience gets the most out of the combined experience of the panel.
For another event earlier this month, a fellow panelist and I did a Google Hangout and prepared a Google Site which housed our Google Slides, a SoapBox backchannel, and links to resources. How much more do you think an audience appreciates such an effort?
That is not to say that I did not enjoy being a panelist at this conference. There was lively chat, challenging questions, and humorous moments.
Not many people know what happens in the background of something as seemingly straightforward as a panel discussion. For me, this was not just an opportunity to teach but to educate. To reach, to connect, to inspire action. I am not sure what impact I had.
I did get the usual post-talk phenomenon of audience members wanting to meet, exchange business cards, and have extended conversations. I also received appreciation and praise for my insights. But this was not an ego trip for me. Words are easy, actions less so.
In any case, that is three out of four talks down this month. I have one big one, a keynote, to go at the end of the month.